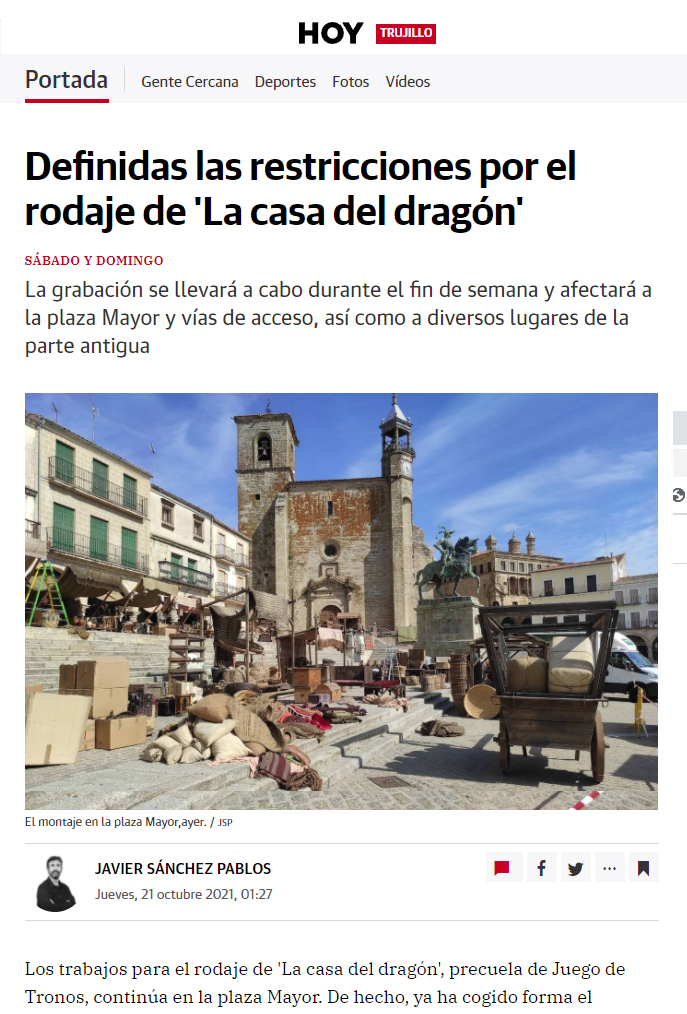 Article about the House of the Dragon [/ caption]
This weekend, October 23 and 24, 2021, recordings of the series Game of Thrones: The House of the Dragon are being made. They are using the magnificent setting that conforms the Main Square in Trujillo, and parts of the historic villa of the city.
It is a complicated weekend for the residents of this city due to the circulatory disorder of both vehicles and pedestrians, but it represents a sacrifice that will result in an important benefit for our future as a touristic city. There is a type of tourism at an international level that is passionate about visiting the places where their favorite films were recorded, and our city can benefit from this because it is promoted in association with this world-famous super production.
To compensate for inconveniences, the producer has reached generous financial agreements with some local businesses that are deprived of their normal activity on a weekend like this, where good weather and temperatures encourage our visitors.
In the previous images you can see the recreation of a full-fledged medieval market, with belongings, floats, stalls, and an endless number of articles that are used in the series and are distributed throughout the main square, the atrium of the San Martín Church and the surroundings of the equestrian statue of Francisco Pizarro.
Photos kindly provided by Rubén Mateos Arias (Photographer).