Between the towns of Santa Cruz de la Sierra and El Puerto de Santa Cruz rises the interesting Risco de San Gregorio, an elevation of 884 meters in the middle of the plains between Miajadas and Trujillo, along the A-5 Madrid-Lisbon highway. An isolated hill that rises not very tall but its haughty silhouette and the mixture of green and rocky slopes give it a quite attractive appearance.
A very popular mountain for people who have passed by the area in the last two thousand years. On the hand, nature has found out how to defend itself and, with the abandonment of rural tasks, brambles, abundant rockrose and other shrubs are recovering their space. In other words, if you go up, you can see natural crags, ruins of an old town, Roman water pipes, tombs, stone piles, etc., which give it an almost magical charm among the vegetation. And when you get to the top, after an easy walk of no more than an hour, it gives you spectacular views of the surrounding plains.
You can get to Santa Cruz de la Sierra and leave the car in the main square and start the climb looking for the Augustinian convent (it is in ruins and you will see it because it's big). Just to the right of the convent is the beacon from where the path starts. Along the way you will find signs that explain the surroundings. Here I leave you a plan of the route for climbing. Below you have a Wikiloc QR to follow.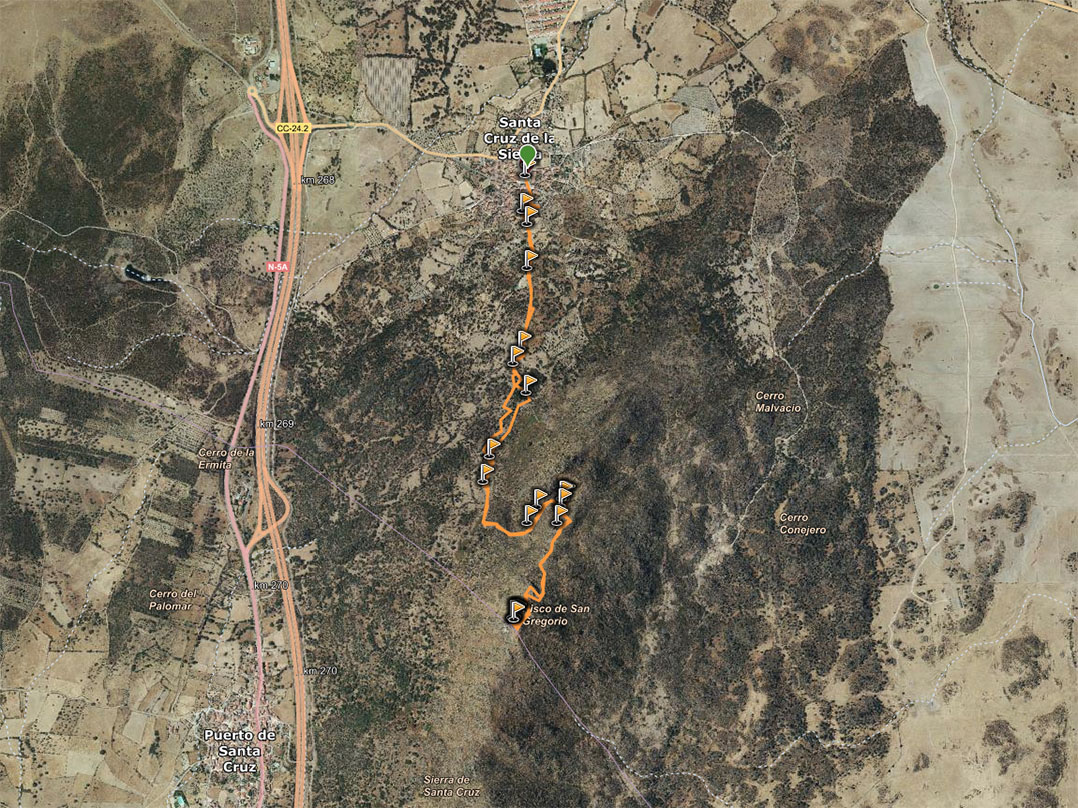 Finally some tips:
Wears footwear to walk on stones.
Take your dog (he will freak out in colors).
DO NOT go up if it has rained (there are some very slippery rocks).
Start walking up early (no later than 10:00 am).
Don't forget your camera and your hat if it's sunny.
Take a sandwich and some water to celebrate when you reach the summit, the views are worth it.
When you get back to the main square, it will surely be 1:00 p.m.
Pay yourself a tribute with a cold beer sitting on a terrace in the main square.
You can see the details of this route in the Wikiloc. Use the QR below and go up, you will not regret.